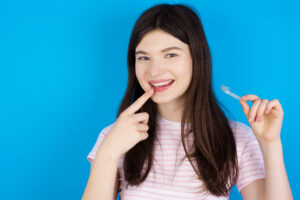 When you have misalignment, this could lead to serious oral health complications, caused by malocclusion. To prevent problems with your oral health and to improve the overall beauty of your smile, we have a cosmetic option for teens and adults. In today's blog, your Shirley, NY, pediatric dentist and orthodontist talks about treating malocclusion with Invisalign®.
Misalignment and Malocclusion
When you have crooked, crowded, or overlapping teeth, this could lead to malocclusion, or negative changes to your bite balance. This could strain your jaw joints and increase the risk of tooth decay, gingivitis and gum disease, and disorders like TMD and bruxism (teeth grinding). To avoid these, and to feel confident in your appearance again, you need to seek orthodontic treatment. For a cosmetic approach, we could help teens and adults with Invisalign® aligners.
Creating Custom Aligners
Each set is custom-made for your smile, fitting over the teeth and shifts the teeth closer and closer to their optimal position, correcting misalignment in as little as one year for adults or 18 months for teens, while braces may take as long as two years. To get started, our team will carefully examine your smile with digital imaging systems to understand the cause and severity of your misalignment. If Invisalign® is good for you, our team will then take detailed digital images and measurements, which we combine to create detailed 3D impressions. In a lab setting, experts will use them to design and fabricate a series of aligners from a clear and BPA-free plastic material. You're now ready to begin the treatment process!
Invisalign® for Teens and Adults
For teens, we want to make sure all of the permanent teeth have erupted and their surfaces properly calcified. For teens and adults, treatment involves wearing a set of the aligners for between 20 and 22 hours a day on average. You do this for two weeks before wearing the next set for the same amount of time, continuing the process until you obtain optimal results. The aligners are easy to clean and use, and this limits the discomfort often reported with metal braces. You have fewer office visits too! Being removable also means you don't have to change your diet or avoid certain foods, while brushing and flossing is also much simpler, protecting you from stained teeth and these concerns during treatment.
If you have any questions about Invisalign® for adults or teens, then contact our team to get started. We want to help you enjoy optimal oral health!
Schedule Your Orthodontic Visit In Shirley, NY
Clear aligners provide a more attractive smile and better oral health too! For more information on addressing uneven teeth or to schedule an appointment, call us at Shirley Orthodontics and Pediatric Dentistry in Shirley, NY at (631) 399-1600.