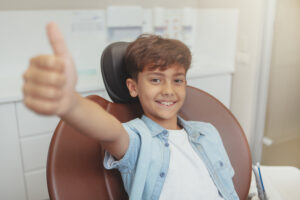 Learning that your child has a cavity can be stressful. The news carries concern over their health, but you can also worry about how they will experience treatment and how decay will affect their oral health in the long term. At our Shirley, NY dental practice, we are proud to provide protection for the smiles of our young patients. When those patients need help because of tooth decay, we will work with them to make treatment as comfortable as possible. In addition to making sure kids feel secure and safe throughout cavity care, we also provide services that can preserve their smile and bite health for the long term.
What The Right Approach To Cavity Treatment Offers Your Child
The right approach to cavity treatment is important at any age. After all, restorative work is responding to a permanent form of damage to your tooth structure, something that children and adults should not take lightly. For kids, cavity issues can be particularly scary because they are less used to dental care and less familiar with dental problems and services. We take care to help our younger patients feel at ease with this potentially scary issue. We also take care to provide conservative work that preserves healthy tooth structure, avoids unnecessary cosmetic changes, and allows them to maintain a healthy bite.
Using Lifelike Dental Fillings And Crowns To Protect Teeth
Dental fillings and dental crowns are both used in cavity treatments. For cavities that are caught in time, we can use dental fillings to cover an affected area while leaving the surrounding enamel unchanged. Anesthetic keeps kids comfortable while we carefully remove the infected enamel from the tooth structure. After the cavity is cleared, we use a special resin material to cover the affected space and protect the overall tooth structure.
If a cavity is too large for a filling, a crown can provide protection by covering the tooth above the gumline. Different materials are used to make these restorations. For the molars, we recommend that crowns made of metal be used. This is because the material offers more functional support can can hold up against greater bite pressures. However, when the more visible teeth need treatment, we offer other materials, including lifelike substances like porcelain and zirconia.
How We Help Kids Avoid Future Cavities
Preventive pediatric dentistry can help your children grow up without cavity troubles! In addition to providing guidance and gentle but still thorough cleanings, we can use fluoride treatments and dental sealants at recommended times to help kids enjoy better protection against the harmful erosion caused by oral bacteria.
Talk To Your Shirley, NY Orthodontist And Pediatric Dentist About Cavity Care For Your Child
Cavities can be stressful at any age, but your kids can benefit from having access to better care at our practice. To find out how we can help your little ones enjoy better support for dental decay, contact your Shirley, NY, pediatric dentist and orthodontist by calling (631) 399-1600.