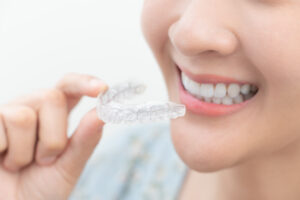 When you have crooked, crowded, or overlapping teeth, then dental misalignment could be having a negative impact on the appearance and health of your smile. That said, we know that teens and adults are not very excited about the idea of metal braces. Fortunately, your Shirley, NY, pediatric dentist and orthodontist could offer Invisalign® aligners!
The Benefits of Invisalign®
While metal braces are effective, they're very visible, and could make you feel self-conscious. But with Invisalign®, we forgo metal brackets and wires completely. Instead, your smile is corrected with a series of plastic aligners, which fit comfortably and are clear in appearance. These help you avoid gum and cheek irritation, and are easy to use and clean. In addition, they're removable! Which means you can take them out before meals, so you don't need to alter your diet or avoid certain foods. Being removable also means you have a much easier time brushing and flossing, keeping your smiles strong throughout the treatment period. You can also remove them before special occasions! The treatment period is also much shorter than braces, with optimal results available in as little as one year in some cases. Plus, Invisalign® requires fewer office visits.
Creating Custom Aligners
Each set you wear will be custom-made for your smile. Which means they can fit comfortably, while also correcting your smile with precision. To create them, you will stop by the office so we can take detailed digital images of your smile from multiple angles. These images can be combined to create a computer impression that is far more accurate than a physical one. We then send these images to experts at a special lab, where they will craft your aligners. Once your Invisalign® aligners are ready, you will begin your journey to an even smile.
How Treating Misalignment Safeguards Your Smile
By correcting your uneven smile, you make the process of brushing and flossing thoroughly easier, so you're less likely to develop tooth decay and gum disease. An even smile prevents malocclusion, so you avoid the jaw joins stain linked to a painful disorder like TMD or bruxism (teeth grinding). You also smile with confidence, and enjoy better quality of life too! If you have any questions about how we treat uneven smiles for teens and adults with Invisalign®, then contact our team today to learn more. We want to help you enjoy your best smile, one you never hesitate to show off to the world.
Your Shirley, NY, Orthodontist and Pediatric Dentist Corrects Dental Misalignment
We want to help correct your uneven smiles, so you can enjoy better oral health and a more attractive smile. To learn more about our clear and comfortable solutions for dental misalignment, then contact Shirley Orthodontics and Pediatric Dentistry in Shirley, NY, by calling (631) 399-1600.