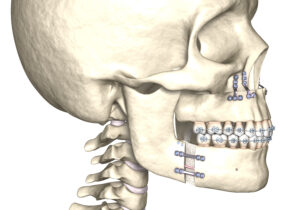 Orthognathic surgery is also known as corrective jaw surgery, and this is needed to not only improve bite balance, but protect your smile from major complications. We can offer this for kids, teens, and adults. In today's blog, your Shirley, NY, pediatric dentist and orthodontist talks about when smiles need orthognathic surgery.
The Reasons for Jaw Surgery
For some, jaw issues could occur naturally due to complications with the growth and development of the smile. This could also be brought on by a serious injury to the face or jaw. Without treatment, the imbalance could cause painful complications, such as TMJ disorder and bruxism (teeth grinding), which means worsening pain and even problems opening and closing your mouth. For others, this could limit breathing at night and lead to an increased risk of sleep apnea. We haven't even discussed the negative impacts on the appearance and function of your smile. When you have these issues, you should contact our team to schedule a consultation to see if you or your child benefit from this oral surgical procedure.
Planning the Treatment Process
To begin, our team will obtain clear and detailed images of your smile with advanced digital x-rays and intraoral cameras, so we can assess the case and extent of your oral health issues with precision and accuracy. We can then plan the surgery in detail. With local anesthetics and sedation, we can help you or your child enter a calm and relaxed state with little to no memory of the procedure. We can treat the bones in the upper and lower jaw, or both, and will be able to move them in or out. We can also shift them up or down, or lengthen or shorten them as needed. The procedure not only improves function, but could help improve esthetics as well. Our oral surgeon and orthodontist will work alongside each other, since this is a complex procedure, and orthodontic care afterward may be needed to complete the fine touches on your smile.
Use Your Dental Benefits
The holiday season is days away, and for many of us this means a much more complicated schedule. Don't let this limit your ability to see us, why not schedule a checkup and cleaning now? We can then offer any necessary treatments before the stressful holidays limit your time, and before your 2022 dental benefits expire at the end of December. If you have any questions, then give our team a call today.
Schedule an Appointment with Your Shirley, NY, Orthodontist and Pediatric Dentist
Our team can provide a safe and gentle surgery for kids and adults alike. To learn more about correcting and improving the health and function of your smile, then contact Shirley Orthodontics and Pediatric Dentistry in Shirley, NY, by calling (631) 399-1600.