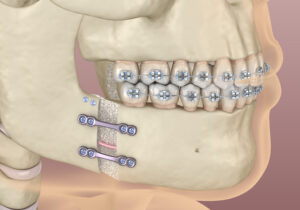 Sometimes, addressing the root cause of misalignment and poor bite function means undergoing jaw surgery. Orthognathic surgery and restore balance and prevent major combinations from arising. In today's blog, your Shirley, NY, pediatric dentist and orthodontist talks about how we rebuild smiles once again.
When Smiles Need Surgery
Corrective jaw surgery could be necessary due to issues that occur naturally as your jaw grows and develops, issues that could upset the arrival of the teeth and lead to poor bite balance and strained jaw joints. We could also address issues that arise due to injury or other complications. Without treatment, this could have a negative impact on your smile's appearance and your overall facial structure, and leave you vulnerable to a host of problems, like TMJ disorder and bruxism (teeth grinding), which in turn cause further discomfort and poorer oral health.
Improving Balance and Function
Our team can use the surgery to address concerns with the upper and lower jaw, or both. We can lengthen or shorten them, or move them up and down or in and out. In doing so, we restore balance and ease strain on the jaw joints, and also correct esthetic issues as well.
Working with a Team
Our team will take detailed digital x-rays and intraoral camera images, so we can plan the treatment process with precision and accuracy. When the time for treatment arrives, we will administer a local anesthesia and dental sedation to help you enter a calm and relaxed state, with little to no memory of the procedure at all. We will work alongside an oral surgeon and orthodontics to ensure the process is done correctly and that the next stage of treatment can begin seamlessly. These procedures can help improve your child's bite function and oral health, boost esthetics, and also limit the risk of airway obstruction that could lead to behavioral issues and sleep apnea as they grow older.
Orthodontics
Our team can complete fine touches with orthodontics to complete the process and help you or your child smile with confidence once again. If you have any questions about how we approach orthognathic surgery, then contact our team today. A visit now means a chance to use your 2022 dental benefits before they expire. Don't let the benefits you've earned or the health savings funds you've put away, expire without being used. The holiday season will be here before you know it, so a visit now before things get too hectic is highly recommended!
Make Time to See Your Shirley, NY, Orthodontist and Pediatric Dentist
Our team is eager to help you enjoy a functional and beautiful smile once again. To learn more about rebuilding and strengthening your smile, then contact Shirley Orthodontics and Pediatric Dentistry in Shirley, NY, by calling (631) 399-1600.