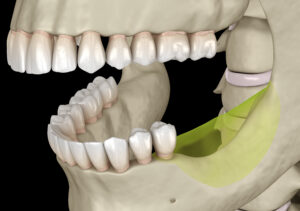 Orthognathic surgery, or the procedure we perform to treat imbalance or injury to the jaw, is necessary to avoid major complications, from pain in your smile to misalignment. Each procedure will involve a custom approach, and could help improve your long-term health. In today's blog, your Shirley, NY, pediatric dentist and orthodontist discusses orthognathic surgery.
When Your Jaw Needs Surgery
Complications with the growth and development of your smile could lead to poor balance, misalignment, and discomfort. You could also sustain a serious injury that damages the jaw or causes missing teeth. Trauma is often a reason to undergo treatment. Poor symmetry could not only impact the esthetics of your smile, but also increase the risk of a variety of complications, from TMJ disorder and chronic teeth grinding (bruxism) to sleep apnea, misalignment, and even tooth loss.
Preparing Your Smile
We will first use advanced imaging technology to look closely at your upper and lower jaw. We will assess the presence of imbalance and injury, and plan the treatment with precision and accuracy. We then plan the treatment to offer improvement and also avoid sinus cavities and nerve tissues too. To ensure you feel comfortable, we will not only administer a local anesthetic, but also sedation. With dental sedation, you enter a calm and relaxed state with little to no memory of the procedure afterward. This treatment could be recommended for kids and adults alike.
Surgery and Recovery
The surgery is complex and will involve the assistance of an orthodontist and oral surgeon. We can lengthen, shorten, or reposition the jaw up or down, or in or out. This helps improve bite function and could also offer a more attractive appearance as well. Our specialists will work together to complete the procedure, and care could continue with your general dentist or orthodontist to complete finer parts of your smile's treatment after the surgery. The process will be planned and completed with great detail and precision, and every smile receives personalized care.
We're ready to help kids, teens, and even adults enjoy better bite function and smile beauty, and to avoid the onset of major oral health problems. If you have any questions about our approach to jaw surgery, or about any of our other pediatric and orthodontic treatments for kids and adults alike, then contact our team today to learn more. We strive to help smiles in our community!
Your Shirley, NY, Orthodontist and Pediatric Dentist Provides Jaw Surgery
We know how to repair damage and bring balance and symmetry back to your smile with oral surgery. To learn more about our approach to orthognathic surgery then contact Shirley Orthodontics and Pediatric Dentistry in Shirley, NY, by calling (631) 399-1600. From oral surgery to orthodontic care and general pediatric dentistry, we can help people of all ages smile with confidence.