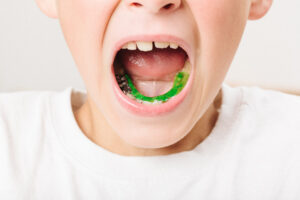 We offer orthodontic care for kids of all ages, not just teens! Which means your Shirley, NY, pediatric dentist and orthodontist can often start treatment early, for kids as young as age seven. Starting early with a phased approach could help limit how long kids need braces or aligners in the future, and guide the growth of their smile in positive ways.
Planning Treatment
To begin, we need to understand the current state of your child's smile. At age seven, kids have a mix of permanent and baby teeth, so we can assess the risk of misalignment. During the initial consultation, our team will create a treatment plan and talk about what to expect, including payment plans. We then examine the smile with detailed digital x-trays and intraoral camera images. The goal of the treatment at this stage is to prevent worsening misalignment and also ensure the jaw grows and develops to properly accommodate the permanent teeth. When treatment continues in Phase II, this could mean less time with braces or Invisalign® aligners.
Common Orthodontics
If baby teeth have become lost prematurely, we could use space maintainers to help keep these gaps open to ensure permanent teeth arrive in proper positions. We also have retainers, which helps guide the growth of the smile to limit the severity of misalignment as your little one approaches the teen years.
The Rest Period
Following the first phase of treatment, there will be a period of rest in which we wait for the rest of the permanent teeth to arrive. Once all of these teeth are in, we can continue treatment with Phase II!
Phase II
When your child reaches the teen years, and all permanent teeth have erupted, we will continue with the second phase. For some, this could include braces. Using ceramic brackets, we can make them less visible. We also have Invisalign® aligners, which offer a clear approach to smile correction. Addressing misalignment at Phase II means a straighter smile, providing better oral health and function, and a more attractive smile.
If you have any questions about treating misalignment in childhood, then let us know. We would be happy to help your children enjoy better oral health and straighter smiles, choosing a treatment plan that works for them. We look forward to seeing you and your family! Don't forget, we also offer care for adults as well.
Visit Your Shirley, NY, Orthodontist and Pediatric Dentist Soon
Our team wants to help kids start their path to an even and healthy smile. To learn more about our treatments for children as young as age seven, or about our solutions for teens and adults too, then contact Shirley Orthodontics and Pediatric Dentistry in Shirley, NY, by calling (631) 399-1600.