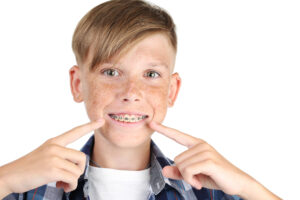 Orthodontic care helps correct the alignment of the teeth to improve oral health and function, and also boosts overall smile beauty. But how soon can we start orthodontic treatment? In today's blog, your Shirley, NY, dentist talks about how we use orthodontics to start transforming smiles for patients as young as age seven!
The First Exam and Consultation
Treatment for misalignment could start as early as age seven! At this age, there is a mix of both permanent teeth and primary teeth, so we can assess the current state of alignment and the risk of increasingly uneven smiles in the future. Treatment can then be done in a phased approach, one that helps minimize the impact of misalignment and guide the growth of the smile. When the second phase begins in the teen years, kids could require less time to achieve more substantial results!
Orthodontic Treatments for Kids
We will carefully examine your child's smile with advanced imaging technology, looking at the teeth and beneath the gums to identify the positions of uneven teeth and plan treatment with precision and accuracy. For some, we could use space maintainers to help prevent misalignment if baby teeth have become lost prematurely or require removal due to impaction. We also have retainers, which are worn to help guide the growth and development of the smile and reduce the severity of misalignment.
Care for Teens and Adults
Once the child enters the teen years, or starts treatment in the teen years, we could recommend traditional braces or Invisalign® aligners. With traditional braces, we can address more severe cases of misalignment, and we could minimize the appearance of the braces with the use of tooth-colored brackets instead of metal ones. We also have Invisalign®, which uses aligners that are nearly invisible to shift the teeth and correct uneven portions of the smile. In addition to care for teens and children, we can also help adults too! Your entire family could start a journey to more even smiles together, enjoying better oral health and function as a result.
If you have any questions about how we address uneven teeth in patients of all ages, or about our pediatric dentistry services, then contact our team today to learn more. We look forward to helping you and your loved ones tackle your misalignment, and enjoy smiles that make you feel proud and confident as a result.
Talk to Your Shirley, NY, Orthodontist and Pediatric Dentist Today
We would like to help kids enjoy an even smile and avoid the problems associated with untreated misalignment. To learn more about correcting minor or severe cases of dental misalignment in all ages, then contact Shirley Orthodontics and Pediatric Dentistry in Shirley, NY, by calling (631) 399-1600.